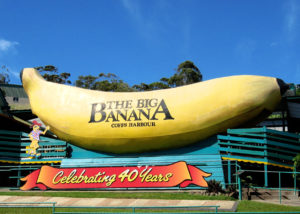 Further proof – if proof is needed – of Australians' quirky sense of humor is the nearly cult status of Australia's Big Things, upon which road trips are sometimes centered. The Big Things of Australia are a loosely related set of about 150 large structures or sculptures scattered throughout the country with the intention of drawing tourists.
One of two contenders for being the first Big Thing is the Big (walk-through) Banana in Coffs Harbour, built in 1964. There is no doubt that Australians have a passion for big fruit, because you can also find a Big apple, two pineapples, cherries, and several oranges along the roads. Other Australian large food replicas include potatoes, an avocado, a pumpkin, an olive, cheese, a milkshake, and a two-crusted pie with filling unnamed.
Another popular sculpture subject is fish and sea creatures. Roaming the countryside you can find a Big: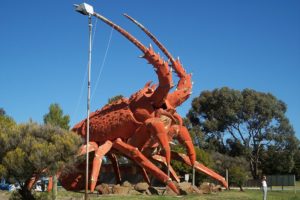 Barramundi
Crab
Lobster
Murray Cod
Oyster
Prawn
Trout and
Shell
But Big Things are not limited to Australia.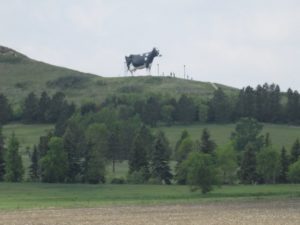 Salem Sue, 38 feet high and 50 feet long, pictured here posed regally on the verdant fields of North Dakota overlooking Interstate Highway 94, is an example of the most common over-sized animal statue in the U.S. (Why cows? Who knows?)
Many of the world's biggest sculptures were developed as public art pieces. This sculpture of large flying bowling pins in Eindhoven, Netherlands by artists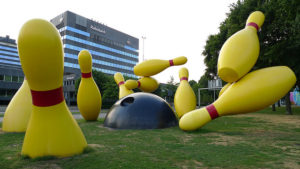 Claes Oldenburg and his wife Coosje Van Brugeen is a prime example of how to add an intriguing element to a basic, grassy boulevard. It is one of several over-sized objects created by the couple. The giant shuttlecock below is also by them. Another popular one of their sculptures is a giant spoon and cherry with stem that can be found in the Minneapolis Sculpture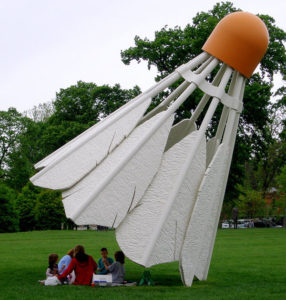 Garden. You can see that and many more examples here. This video depicts multiple views of the public art on that website.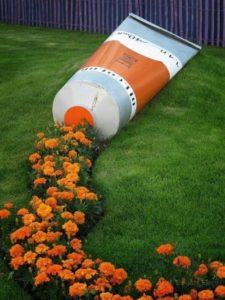 Still, there are loads more.
The orange flowers pouring from the paint tube was found on Pinterest and is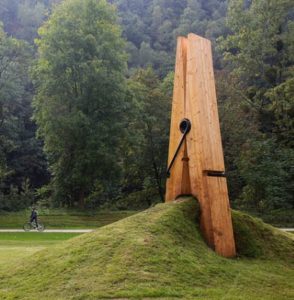 attributed to kfighter.com, which appears to be an Asian site, and has no further info in English.  The giant clothespin was designed by Turkish artist Mehmet Ali Uysal, a professor of art at the Middle East Technical University, and can be found in Chaudfontaine Park, on the outskirts of Liege, Belgium.
This video offers many more remarkable sculptures from around the world.
What giant thing would you like to see depicted in art?