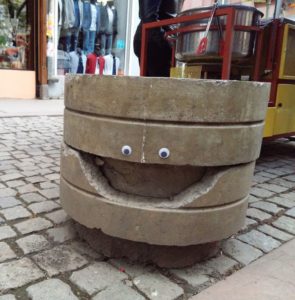 This third series of 5 improv artists blogs is focused on street artists. We took you outdoors for most of the last series on light, and because fresh air is good for body and soul, we're keeping you out.
At the time I am writing this, April Fool's Day has just passed, and a trick I played on my family was to glue googly eyes to all the packaged food in the pantry and refrigerator. They now smile whenever they open either door, which is exactly the long-lasting reaction I was aiming for. Therefore, when I was looking for street artists to highlight, you can believe this one literally caught my eye.
According to this article, "Vanyu Krastev of Eyebombing Bulgaria helps keep it alive. (via Tastefully Offensive, Quipsologies)." Check out those links for many more pictures of the whimsy that eye-bombers can create. And if you want to start your own subversive campaign, go to the Googly Eyes Foundation for ideas. Googly eyes are readily available in the craft department of most dollar stores, but you can also get some for free through the foundation.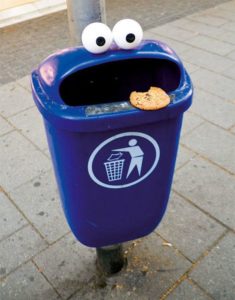 I found this Googly eye variation of cookie monster on Pinterest but the pinner provided no information on who created it.