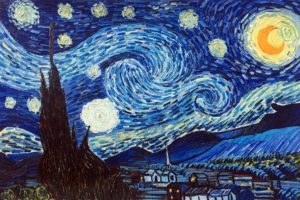 Dutch Artist Dan Roosegaarde paid a fascinating tribute to Vincent Van Gogh's painting Starry Night by creating a bike path in Eindhoven. It's a town where Van Gogh lived for about three years of his short life (1853 – 1890) in the 1880s and used as a backdrop for his paintings.  It was also a town he visited often to buy paint and give art lessons.
Roosegaarde's art is best seen at night, where the half-mile path is lit by thousands of twinkling blue and green lights creating a beautiful night sky on the ground. The nighttime light comes from embedded LED lights powered by a nearby solar array that charges during the day, plus a light-collecting paint.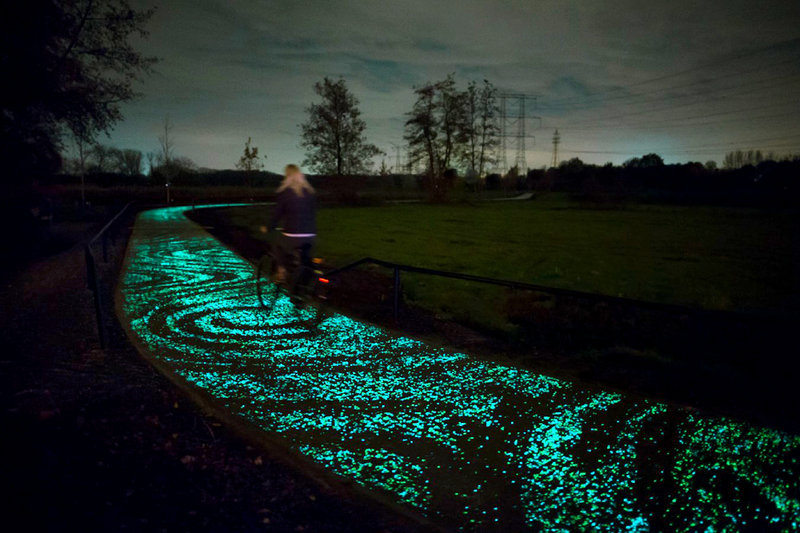 According to an NPR piece, Roosegaarde hopes the work speaks to everyone. He said, "You have people who are interested in technology to make landscapes which are energy neutral. You have people interested in cultural history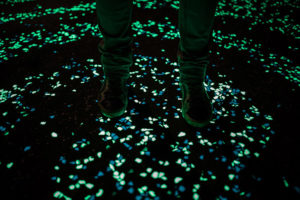 and experiencing it in a contemporary way. You have boys and girls who have a first date and want to take their date to a special place." As for himself, he says, "You have an artist like me who wants to create something just incredibly poetic; and all that comes together. A good project generates new stories."
Another source said that this path is just one part of Roosegaarde's smart roads projects to create safer, more efficient roads, but we could not find additional information at the time of this writing. Wouldn't it be fun to have many more of these paths?
Photos Courtesy of Studio Roosegaarde