In the previous post we noted that portraits can be made from Rubik's cubes. In this post we want to call your attention to three other children's toys that have been used for creating images of people.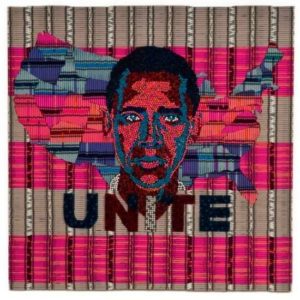 #1 – Crayons
A number of artists use crayons not to color, but to create the image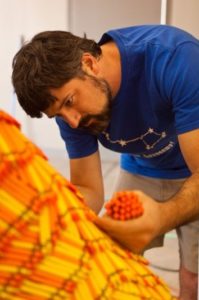 itself. Herb Williams is now probably more famous for his crayon sculptures than his portraits, but you might recognize this one of former President Obama, and you can learn more here. We did not find a lot of biographical information on him, but Google "Herb Williams – crayon art – images" and you'll find terrific crayon eye candy.
#2 – LEGOs
Nathan Sawaya calls himself a brick artist, LEGO® bricks to be exact. He has played with LEGOs since he was five years old, but he put them away for a while to become a corporate lawyer in New York City. He dragged them out again when he realized making LEGO sculptures helped him de-stress from intense days. Playing led to commissions and commissions eventually led him to give up his day job.
In the years since then he has authored two best-sellers, received numerous honors and awards, and given many lectures, including this delightful TEDx talk in which he shared his passion for art. What the popularity of his art has taught him is that LEGOs are a great medium for making art accessible. In 2014  Mr. Sawaya founded The Art Revolution Foundation for the purpose of making art a priority in our schools and our homes, and it is a cause he speaks about at every opportunity. Children who see an ancient Greek statue are not necessarily inspired by it,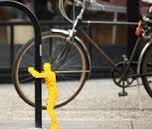 because few of us have slabs of marble lying about, waiting to be carved. But when those children see the statue replicated in LEGOs, they are much more likely to think, "I could do something like that!" It has been proven, he notes, that doing even "a little bit of art, makes you a happier person," and ultimately a better person.  Children who have art available to them do better in school and in life. "Art," says Mr. Sawaya, "is not optional." And it IS fun.
The TEDx talk link above shows the wide range of Mr. Sawaya's brick art featuring his own creations and replications of famous paintings, statues, and even dinosaur bones. It also shows his whimsical street art.  Check it out!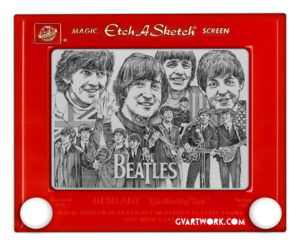 #3 – Etch-A-Sketch
Like Nathan Sawaya, George Vlosich III discovered his preferred artistic medium as a child.  In 1989, when he was 10, his family took a trip to Washington, D.C.  'Before we left, we stopped over at my grandparents' house to say goodbye. My mom pulled out her old 1960's Etch A Sketch so my brother and I would have something to play with in the car." He etched a picture of the U.S. Capitol copied from a brochure and showed it to his parents. "They were like 'Oh my gosh' … my dad pulled over to a gas station to take a picture. He figured it would get erased."
In the decades since then, Mr. Vlosich has gotten a lot more artistically skilled and learned a technique for preventing his drawings from being erased.
He begins by making a preparatory sketch on paper. Then he shakes the device really hard to make sure the drawing surface is flawless. He first draws the major features of the picture. To get from one area of the picture to another he traces over existing lines. What looks like one line might be 20 lines on top of each other. And yes, he makes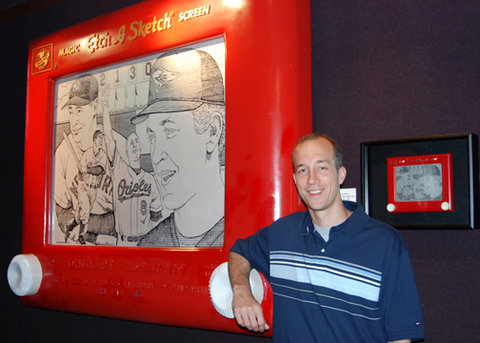 mistakes. Sometimes he can incorporate a mistake into the sketch, but he has been known to start over after putting as much as 20 hours into a sketch. "Now," he says, "I start with the hardest part. Once I get the hardest thing out of the way there's nothing I can't do." It takes him about 75 – 150 hours to complete a drawing. Here's a stunning time lapse video of one.
As Mr. Vlosich's fame has grown, Etch-A-Sketch maker Ohio Art has been happy to send him as many Etch-A-Sketches as he wants. He's done commercial work for Disney and ad agencies. He's created portraits of many of the world's greatest athletes and celebrities, including one of President Clinton and Vice-President Gore that got him invited to the White House.
Learn more about his unique talent on his website and in this interview.